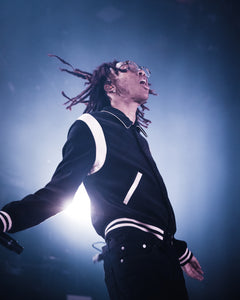 LIL TECCA- QUEENS OCCUPIED HISTORY IN TORONTO
Toronto concert goers packed in tight last night for Queens, New York Rapper and Singer Lil Tecca, as he performed for a packed house at Toronto's HISTORY concert venue. Tecca is currently on his North American "Tecca Loves You Tour" which features two Canadian stops.
With the venue already shaking from his intro, the 19 year old rapper set the night off with one of his hits "LOT OF ME", which without a doubt brought the energy to a whole new level. "LOT OF ME" has hundreds of millions of combined streams between music streaming platforms.
Being at sold out shows at HISTORY before, this one was completely different. The air was thick and hot, the audience was itching to go off at every moment, it was packed tight, and it gave similar vibes to that of a headlining festival performance. In that same breathe, it appeared to be a very controlled type of chaos- just a bunch of kids trying to go crazy for their favourite artist. But for an artist like this I guess we can't expect anything less these days. The way the younger generation has latched onto artists such as Tecca is simply incredible. You can't help but notice how reminiscent it is of the craze that existed for Rock stars, and these shows are starting to hold a close resemblance to that of grimy punk shows. For everyone in attendance, if you aren't ready to bounce, go crazy and rage, you might want to find a spot in the back. Which might not be typical for all Rap shows. In addition to all of this, supporters are not only connecting with the music anymore, but now more than ever they feel as if they are connected personally with the artists, which surely has to play a part in all the craze in one way or another. 
This new wave of music and audience is definitely a spectacle. If it's not your cup of tea, that is ok, there is still PLENTY to find beauty in. I hope that's been described here.
Connect with Lil Tecca Here
---