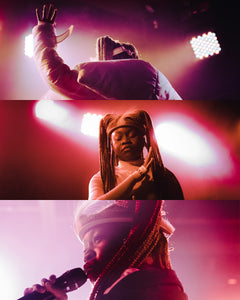 FROM ZAMBIA TO TORONTO- SAMPA THE GREAT SOLD OUT SHOW
28 year old Zambian Hip Hop artist and songwriter Sampa The Great played a sold out show at Toronto's Velvet Underground last night. Typically based out of Australia, Sampa decided to move back to Zambia during Covid where she currently resides. Non the less, she's come a very long way and she's done it with an all Zambian musical ensemble of four, to share their music and talents with us across the globe.
The music is in her bones and the energy flows through her so strong that it starts to move you physically and emotionally. She's brave, and her presence brings a sense of power and strength into the room. She speaks about her personal experiences and other matters happening in our world in ways a true leader would. As Sampa said last night "We are always looking for someone to give us the key. But what we need to realize is we've had the key this whole damn time and now we are breaking the fucking doors down!".
Having two Canadian dates on her North American tour, those being her first shows in Canada ever, it's sure we will see more Canadian dates from Sampa The Great in the future. After all, the show last night was incredible not only on her part, but the audience in attendance was amazing and receptive. Anyway, tune into her music and don't miss one of her shows if you have the chance to go!
Connect with Sampa The Great here
---